Όταν ο Βάγκνερ συνάντησε τις ντομάτες / When tomatoes met Wagner
Direction: Marianna Economou / Marianna Oikonomou
Script: Marianna Economou / Marianna Oikonomou
Director of Photography: Marianna Economou, Argyris Tsepelikas, Dimitris Kordelas / Marianna Oikonomou, Argiris Tsepelikas, Dimitris Kordelas
Editing/Montage: Evgenia Papageorgiou / Evgenia Papageorgiou
Producer/Production: Spyros Mavrogenis, Rea Apostolidis, Yuri Averoff / Spiros Mavrogenis, Rea Apostolidi, Giouri Averof
Country of Production/Country: Greece / Greece
Duration: 72'
Production Year/Year: 2019
Language/Language: Greek / English
Subtitles: -
Synopsis:
In a village of the Thessalian plain that is slowly dying, two cousins and five women decide to make a new start. With a little help from Wagner's music playing in the fields and the stories they tell to get courage, they try to penetrate the world market with the organic cultivation of an old tomato seed. With a humorous and poetic look, the film talks about the power of human relationships, the importance of seeing life differently and redefining itself in difficult times.
The film is a story about an ordinary rural community, where things start to happen in an extraordinary way. After centuries of introversion, the tomato stirs up life in the village and its thirty three elderly inhabitants respond to a new reality. On top of this, Alexandros plays Wagner in the tomato fields to help them grow, uses stories to market the products and convinces people from all over the world to visit Elias. With humour and poetry, When Tomatoes Met Wagner speaks to us about the power of human relationships and the importance of reinventing oneself during difficult times.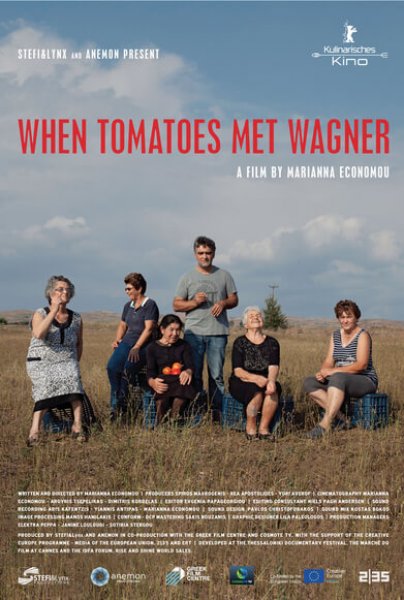 Director's Biography/Director's Short Bio:
Marianna Economou studied anthropology, photodemosiography and video production in London. She initially worked as a photographer and researcher in Greek and foreign publications, channels and organizations. Since 2000 he has been involved in documentary, where he performs productions for ERT (Lessons-Sufferings, Ecological Diaries) and directs documentaries in co-production with foreign channels (BBC, ARTE, YLE) participating in international festivals (The School, For a Place in Dance, Sfaktiria Street, Bells, Threads and Miracles, Listen to Me, Food for Love). Her latest film, The Longest Road, was awarded at the Leipzig Documentary Festival and was nominated for the Best Documentary Award of the European Film Academy.
Marianna Oikonomou studied anthropology, photojournalism and film production in London. Since 2000, she directs and produces documentary series and independent films of Greek production and co-productions with European broadcasters such as the BBC, ARTE and YLE. She has received awards for the films The School, My Place in the Dance, Please Listen to Me, Bells, Threads And Miracles, Twelve Neighbours, Food for Love and The Longest Run which was nominated for the European Film Awards 2016. The Longest Run also won the VER. DI award at Dok Leipzig.