For another year the Chania Film Festival hosts throughout Crete the competition 21st International Festival of very short films Très Court!
Thanks to ChaniafilmFestival and their collaborating institutions the friends of cinema in Crete will discover the best short films from all over the world, and will take part in an international vote of a public choice for the best film!
The Festival IS A COMPETITION WITH THE PUBLIC and CRETE to monitor and VOTE by co-shaping the result by evaluating the films of the program.
TRAILERS https://www.youtube.com/watch?v=9x6_us7d9bY
The Monday, June 10 in the afternoon AT THE SAME TIME in 5 cities of Crete we will enjoy the fastest film festival in the world: 38 films in two hours! We will be carried away on an express cinematic journey, but also we will vote for the best films, to highlight the one that will awarded with the Selection of the Audience from the 80 participating cities from all over the world. Within them are the five largest cities of Crete:
Chania, Attikon Open Air Cinema, 8:30pm
Rethymno, Pantelis Cinema, 8:00 pm
Heraklion, Experimental Theatre of the Cultural Centre of Heraklion, 8:30pm
St. Nikolaos, Municipal Cinematheatre REX, 8:30pm
Sitia, Cultural Center of the Municipality of Sitia, 8:30pm
MONDAY 10 JUNE 2019 IN THE AFTERNOON AT THE SAME TIME THROUGHOUT CRETE
More information about the Très Court International Film Festival can be found in https://archive.chaniafilmfestival.com/tres-court
Tres Court comes to Crete from the Chania Film Festival / Chania Film Festival and with the support of
Of the Region of Crete
The French Institute at Athens
The Association of Professors of French Philology of Crete
The Attikon Open-Air Cinema
The Film Club Rethymnon
The Cinema Club of Agios Nikolaos
Cinema Club of the Theatre of Sitia
The Municipality of Heraklion
The Cultural – Athletic Organization of Agios Nikolaos
The Très Court International Film Festival (International Festival of Very Short Films) is coming to Greece with the exclusive collaboration that proceeded with the Chania Film Festival / chaniafilmfestival for the development of Très Court firstly in Crete and then throughout Greece.

The festival runs simultaneously in 80 cities & in 28 countries around the world and was founded in 1999 in France. In it compete films no more than 3 minutes (without the titles and end titles), while the participations come from all countries of the world, representing all cinematic genres (fiction, documentary, animation, music videos, etc.).

Upon completion of the screening of the films, the audience is invited to highlight the winning films for the award of the international awards through voting.

More in …
www.chaniafilmfestival.com/tres-court
www.facebook.com/TresCourtCrete/
www.trescourt.com
Trailer https://www.youtube.com/watch?v=9x6_us7d9bY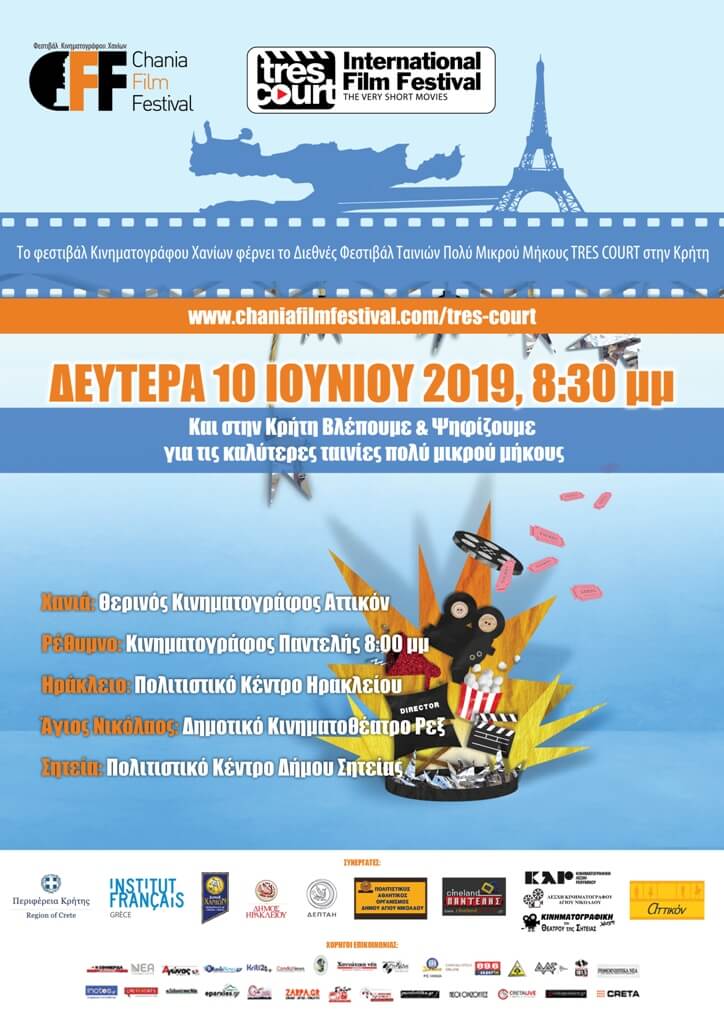 ​